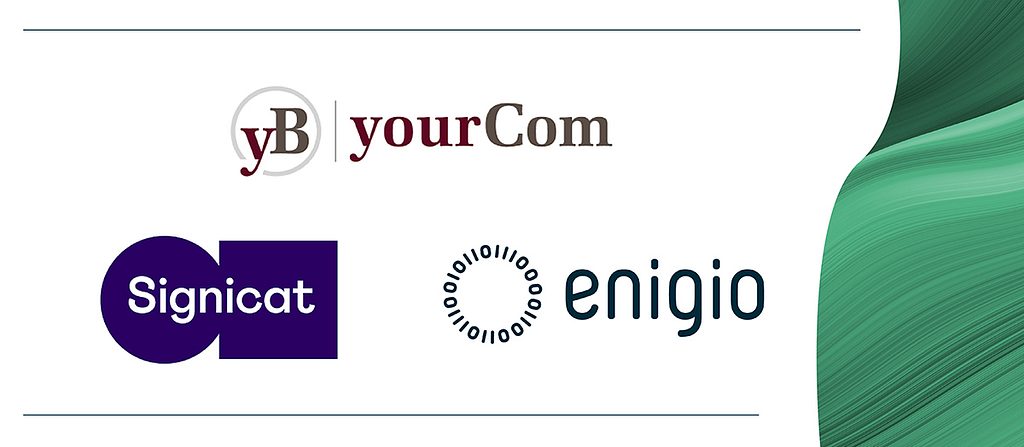 YourCom taps Enigio's trace:original and Signicat's digital identity platform to digitalise promissory notes
Stockholm, May 23rd 2022 – We are delighted to announce that yourCom, a provider of corporate lending, has embraced Enigio's trace:original in combination with Signicat's solution for digital identity and electronic signing to launch a fully digital lending process.
By integrating trace:original, yourCom will be able to offer its clients the creation and management of fully digital original documents including promissory notes (Löpande Skuldebrev in Swedish) in their corporate lending process. This enables faster and more secure customer interactions, which will benefit both yourCom and its customers.
"As an innovative lender to SME businesses in Sweden, yourCom aims to create longstanding supplier partnerships to support the achievement of its business strategy and corporate objectives. As technology providers, Enigio's solution trace:original for digital original documents in combination with Signicat's signing solutions will work with yourCom to enable efficient, adaptive, and scalable operations to support expansion across Sweden and into Europe." says Marthin Larsson, CEO, yourCom.
"Tracing an original document in the digital realm is becoming increasingly complex but critical for ensuring that transactions in our digital economy are based on valid and trusted agreements" states Pontus Andersson, Signicat's Country Manager of Sweden. "With Signicat's pioneering technology, we verify the 'owner' of a document through electronic signing which has gone through a secure authentication to ensure the origin, integrity, and non-repudiation of an agreement. The solution works across borders, which makes it possible for our customers to scale quickly."
"Enigio trace:original is a patented solution for providing digital original documents that are freely transferrable to anyone. The combination of Signicat's solution for digital identity and Enigio trace:original provides a complete and unique solution for digitalising documents of title and negotiable instruments, such as promissory notes." explains Göran Almgren, Head of New Markets, Enigio.
About YourCom
YourCom is a new lender providing loans to small and medium-sized enterprises. We are easy to deal with and we will always help and engage. The people behind yourCom have strong expertise and a very long experience in granting credit. yourCom is a financial institution registered with the Swedish Financial Supervisory Authority (FSA).
For further information, please visit yourCom's website.
Contact:
Marthin Larsson
CEO yourCom AB
marthin.larsson@yourcom.se
+46 72 141 39 85


About Signicat
Signicat is a pioneering, pan-European digital identity company with an unrivalled track record in the world's most advanced digital identity markets. Its Digital Identity Platform incorporates the most extensive suite of identity proofing and authentication systems in the world, all accessible through a single integration point. The platform supports the full identity journey, from recognition and on-boarding, through login and consent, to making business agreements which stand the test of time. Signicat was founded in 2006 and acquired by leading European private equity investor Nordic Capital in 2019. It is headquartered in Trondheim, Norway. 
For further information please visit Signicat's website.
Contact:
Håkan Åsenius
Sales Signicat
hakan.asenius@signicat.com
+46 70 832 38 87
About Enigio
Enigio is a deep-tech company offering innovative solutions to ensure consistency, integrity, traceability, and possession of digital information making data available only to those who should have access to it while protecting it from manipulation. Founded in Stockholm in 2012, the Enigio team includes experienced computer engineers, researchers, software developers, and senior professionals from the financial sector. The team is especially strong in document technology, archival science, cryptography, DLT, relevant legal frameworks and banking.

For more information please visit Enigio's website
Contact:
Göran Almgren
Head of New Markets Enigio
goran.almgren@enigio.com
+46 70 641 77 76