ANVA
When ANVA's clients needed a way to ensure confidential data and communication could be safely exchanged with customers digitally, the insurance software provider turned to Signicat.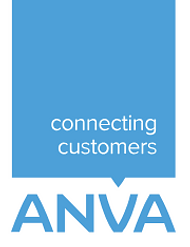 # The challenge
ANVA creates software solutions that enable its clients to work efficiently and conveniently. Its clients work across the insurance, mortgage and finance industries, meaning they handle sensitive customer data. Following the enactment of GDPR in Europe, ANVA's clients needed a way to ensure confidential data and communication could be safely exchanged with customers digitally.
As the privacy of email or messaging platforms is not always guaranteed, some of ANVA's clients switched back to paper mail once GDPR was enforced, as they did not know how else to communicate while complying with the new legislation. This meant that its clients couldn't be certain the sender or receiver was who they said they were, resulting in slower processes, and an increased risk of fraud.
ANVA knew there was an urgent need for a secure digital solution that could verify the identity of its customers and provide ongoing authentication, and it needed a partner that could ensure this process was safe, convenient, and simple.
# The solution
ANVA saw it as the company's responsibility to create a solution to protect the privacy of its clients' customers in-line with regulatory requirements, and so created a secure messaging platform called Safebay that can also be used for video conversations. However, to truly meet its responsibility, ANVA needed a partner that could provide a convenient, and secure method of authentication for Safebay to verify the sender and receiver.
# The results
Since the implementation of the authentication service in August 2018, ANVA has seen immediate results for its clients. The reduction in cost and time varies dependent on the type of process and the nature of the client. However, this can be demonstrated through the example of one of its mortgage advisor clients.
The average time to complete the mortgage process in the Netherlands is 21 hours. When calculated with the mortgage advisor's hourly rate of €123 per hour, the total cost of an average mortgage process is €2,500. The process involves multiple contact moments and the requirement to exchange 16 different documents.
Using the Safebay solution, the mortgage advisor can now complete these contact moments and deliver relevant documentation through the secure messaging platform with ease. This has resulted in a time saving of four hours, and when calculated with the average hourly rate results in a total cost saving of €500, which translates to a 20% saving across all mortgage applications. Customers also get back, on average, one and a half hours, as they can complete the process remotely.
The most important result from the deployment is the ability to securely identify users with iDIN. This means that all data and documents are end-to-end encrypted, and clients can also be sure that their online processes are GDPR compliant.